"In 2016, I became politically active because I want to use my platform and my experience to create a world that works for everyone, based on radical equality and economic justice. The values I want to use for this are respect, care for each other and cooperation."
After a career in radio and television at TMF, SBS6 and RTL 4, Sylvana Simons founded the political party Article 1 in 2016, together with Ian van der Kooye. Since the beginning, Simons has been party leader, national director and at the same time, also a council member and party chairwoman of BIJ1 in the Amsterdam city council, where she has achieved great success with the group, for example in the fields of climate, transgender-care or flexible work.
"As a member of the board, I want to do my best to make the movement of BIJ1 grow in the Netherlands. Growing outside the Randstad and developing into a strong national party with the ultimate result in the upcoming parliamentary elections. Bringing the Netherlands together!"
Lennon Fokkens has been the chairman of BIJ1 since September 2018. Fokkens was introduced to the party during the 2018 municipal elections, when still a candidate for the Pirate Party Amsterdam. The message of radical equalitiy and economic justice that BIJ1 propagates is exactly what Fokkens believes that Dutch politics are missing today.
"BIJ1 is the only national party that is committed to radical equality and I believe that this should be the basis of living together in the Netherlands. It's time we look at society and politics from a different perspective, a more inclusive vision in which equality is central."
Leonieke Schouwenburg from Rotterdam is committed to people and society outside the board of BIJ1 (and the Rotterdam department) through her Inclusia foundation. She also sat on the Feijenoord area committee for the Socialist Party for four years. Schouwenburg believes that the power of BIJ1 lies in the cities and neighborhoods, which together make the national party strong.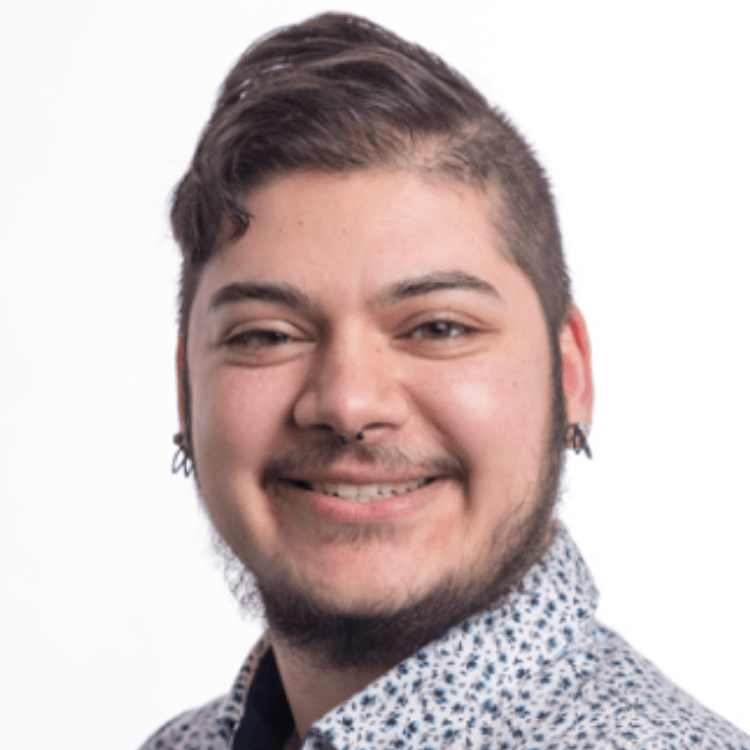 "We are born with a certain body, in a certain family, in a certain city and a certain country. All of this is beyond our control and only time will tell how these factors affect how you grow up and who you develop yourself into. In the ideal world, these initial factors should not matter and everyone should be able to fully develop into a happy person."
Ryan Ramharak, born in Arnhem, ended up at BIJ1 after a long search for which political party could best represent him, as a non-binary trans person. From his perspective as a trans person, working for the national government and a former board member of COC Nijmegen, Ramharak plays an important role in connecting marginalized groups with politics.
"I've been politically active since I was eleven years old. At BIJ1, I found the values that I stand for: radical equality and economic justice."
In 2018, the then 18-year-old Rebekka Timmer, was elected one of the youngest city councilors in the Netherlands, for the Socialist Party in Hilversum. However, due to that party's continued course to the right-wing, as well as their lack of anti-racism and intersectionality, and their xenophobic views on refugees, she chose to make the switch to BIJ1 in November 2018. From her first introduction with the party, Timmer has taken on the organization surrounding the coordination of the local departments and remains involved within the board.
"My background as an artist has given me the motivations to create what isn't there yet, to stimulate radical changes and to appeal to people about the role we all have in creating a society that is just for everyone. As a white person, I am aware of my position and try to do the footwork to clear the stage for voices to be heard."
Ivanka Annot was a member of BIJ1 from the very beginning. Once known in her former home-base Groningen for her free to use livingroom and free restaurant, having moved to Amsterdam, she is now best known for having taken care of fifty wandering undocumented people. In addition to her many activities, she is happy to use her experiences and knowledge for the national board of BIJ1.
"I know the consequences of being gay, homeless and psychologically sensitive, for example. And I know the privileges of being a white man. I am grateful for the people who made me aware of this."
Maurits Boote is always closely involved with society as a person with a degree in General Social Sciences and works as an expert in youth aid. Boote joined directly when the party was founded and in 2019 was mainly active within Utrecht BIJ1, our local department in Utrecht.