"In 2016, I became politically active because I want to use my platform and my experience to create a world that works for everyone, based on radical equality and economic justice. The values I want to use for this are respect, care for each other and cooperation."
After a career in radio and television, Sylvana Simons founded the political party Article 1 in 2016, now BIJ1, together with Ian van der Kooye. Since the beginning, Sylvana has been our party leader. Sylvana is also our council member and party chairwoman of BIJ1 in the Amsterdam, where she has achieved great success as the left-wing opposition.
"BIJ1 is the only national party that is committed to radical equality and I believe that this should be the basis of living together in the Netherlands. It's time we look at society and politics from a different perspective, a more inclusive vision in which equality is central."
Besides Secretary for the national party, Leonieke Schouwenburg is a board member in Rotterdam. In her daily life she works for the MeSam foundation. She also used to be a council member for the Feijenoord district with the Socialist Party for four years. Leonieke believes in grassroots organisation and the importance of political presence in cities and neighbourhoods to create a strong national party.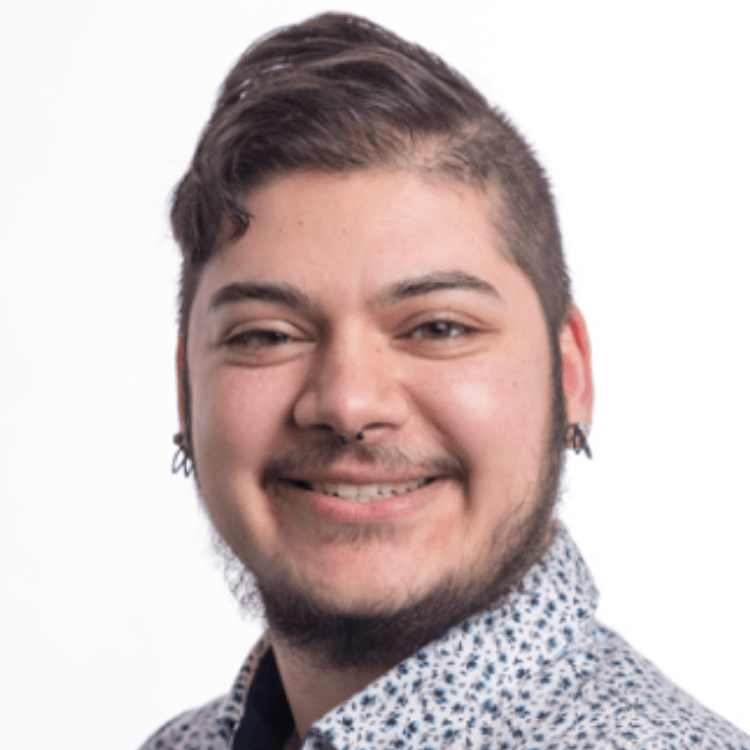 Ryan Ramharak
Treasurer, Candidate Committee and Safety
"We are born into a certain body, into a certain family, in a certain city and a certain country. All this is out of our control and only time will tell how these factors affect how we grow up and develop ourselves. In an ideal world, these initial factors should not matter and everyone should be able to fully develop into a happy person."
Ryan Ramharak came into contact with BIJ1 after a long search for a political party that could best represent themself as a bicultural, non-binary trans person. From his perspective as a trans person, working for the national government and former board member of COC Nijmegen, Ryan plays an important role in connecting marginalized groups with politics. He currently lives in The Hague, where he is co-founder of The Hague BIJ1.
"My background as an artist has given me the motivation to create what isn't there yet, to stimulate radical changes and to appeal to people about the role we all have in creating a society that is just for everyone. As a white person, I am aware of my position and try to do the footwork to clear the stage for the voices that should be heard."
Ivanka Annot was a member of BIJ1 from the very beginning. Once known in her hometown for setting up a free accessible living room and free restaurant, having moved to Amsterdam, she is coordinating shelter for undocumented people. In addition to her many activities, she is happy to use her experiences and knowledge for the national board of BIJ1.
"As a convinced anti-capitalist and anti-colonialist, you cannot help but choose to join BIJ1. The unsustainability of the systems is clear. That is why it is inevitable to organise an alternative based on justice and solidarity."
In 2018, then 18-year-old Rebekka Timmer was elected as one of the youngest city councilors in the Netherlands for the SP in Hilversum. And she had been politically active since the age of twelve. In November the same year, she left city council to join BIJ1. From her first introduction to the party, Rebekka has taken on the organization surrounding the coordination of the local branches and supports the youth organisation Radicaal. She is also an active member with Hilversum BIJ1.
"When I lived in a guided community, I was diagnosed with an authority problem. Even then I said that it was not me, but the authority itself. Later I was able to make it my job to make (in)equality visible and to question power in the youth care system. Obviously and happily, this path of emancipation has reached intersections with BIJ1."
Maurits Boote works as an expert by experience at a youth care institution and co-developer of the ExpEx platform. He became member immediately when the party was founded. After speeching in the Amsterdam City Council he missed BIJ1 in his own city of Utrecht and took the initiative to build the local branch Utrecht BIJ1.
"As a member of the board, I want to do my best to make the movement of BIJ1 grow in the Netherlands and contribute to developing BIJ1 into a strong national party with a great result in the upcoming parliamentary elections. Together we're bringing people together!"
Lennon Fokkens has been the chairman of BIJ1 from September 2018 until Spring 2020. Now he focuses on privacy and digital security Fokkens was introduced to the party during the 2018 municipal elections, when still a candidate for the Pirate Party Amsterdam. The message of radical equality and economic justice that BIJ1 propagates is exactly what Fokkens believes that Dutch politics are missing today.